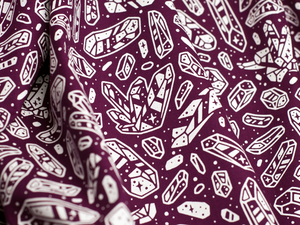 Quartz Crystals - Berry
Regular price
$6.00
$0.00
White ink on Berry purple Kona® quilting cotton fabric.
My current handmade process means this fabric is available in printed panel sections instead of traditional yardage.
Quarter Print: 16-inches tall by 10-inches wide

Half Print: 16-inches tall by 20-inches wide

Full Print: 16-inches tall by 40-inches wide
If Full Prints are listed as out of stock, but 2 Half prints are available, I might have a Full print on hand! If you order 2 Half prints and a Full print is available, I will ship a Full, uncut print for you. Same thing with 2 Quarter prints and a Half.